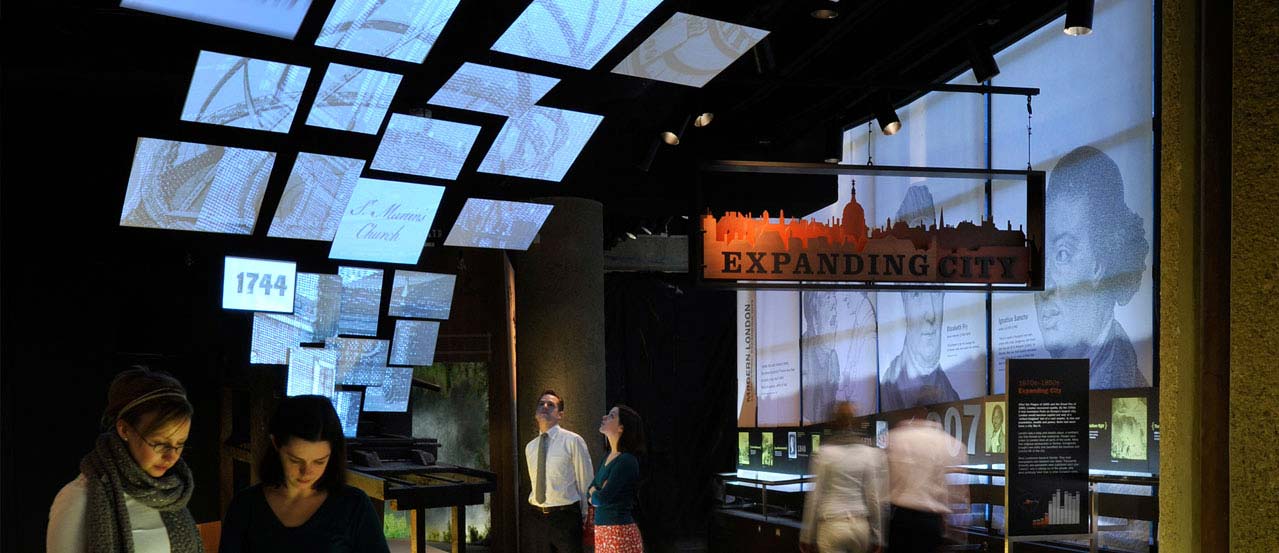 Galleries of Modern London & Learning Centre
Museum of London
Location: London
Services: Content, Design, Cost & Construction Management
Value: £7.2 Million
Completion: 2010

These completely refurbished galleries feature spectacular collections, immersive spaces and child-friendly interactive exhibits, designed to transport visitors through the capital's tumultuous history, rich with drama, triumph and near disaster.
The design blends a range of approaches from traditional objects in cases, to immersive experiences and new digital elements.
Working over a two year period with the museums in house designers, stakeholders, and multi-disciplinary external design consultants, Fraser Randall also managed the delivery of the museum's new café, learning centre, reception area, and the Sackler Hall, a vast contemporary multi-purpose refreshment hub that forms the heart of the museum. Featuring a 45 metre suspended elliptical LED curtain, the largest of its kind in Europe, Fraser Randall managed the entire process of its delivery, from procurement, technical installation and commissioning.
"I believe Fraser Randall to be, without exception, the highest quality project managers anywhere in the world at present. Little wonder that they are in great demand. Their reputation is international and the hallmark of their work is precision, care and attention to detail. What impresses me most about their work is that they enjoy the challenge of the complexity of museum projects and often are able to see a way of progressing issues even when the road ahead is unclear. I have nothing but the highest regard for their work". Professor Jack Lohman, CEO, Museum of London